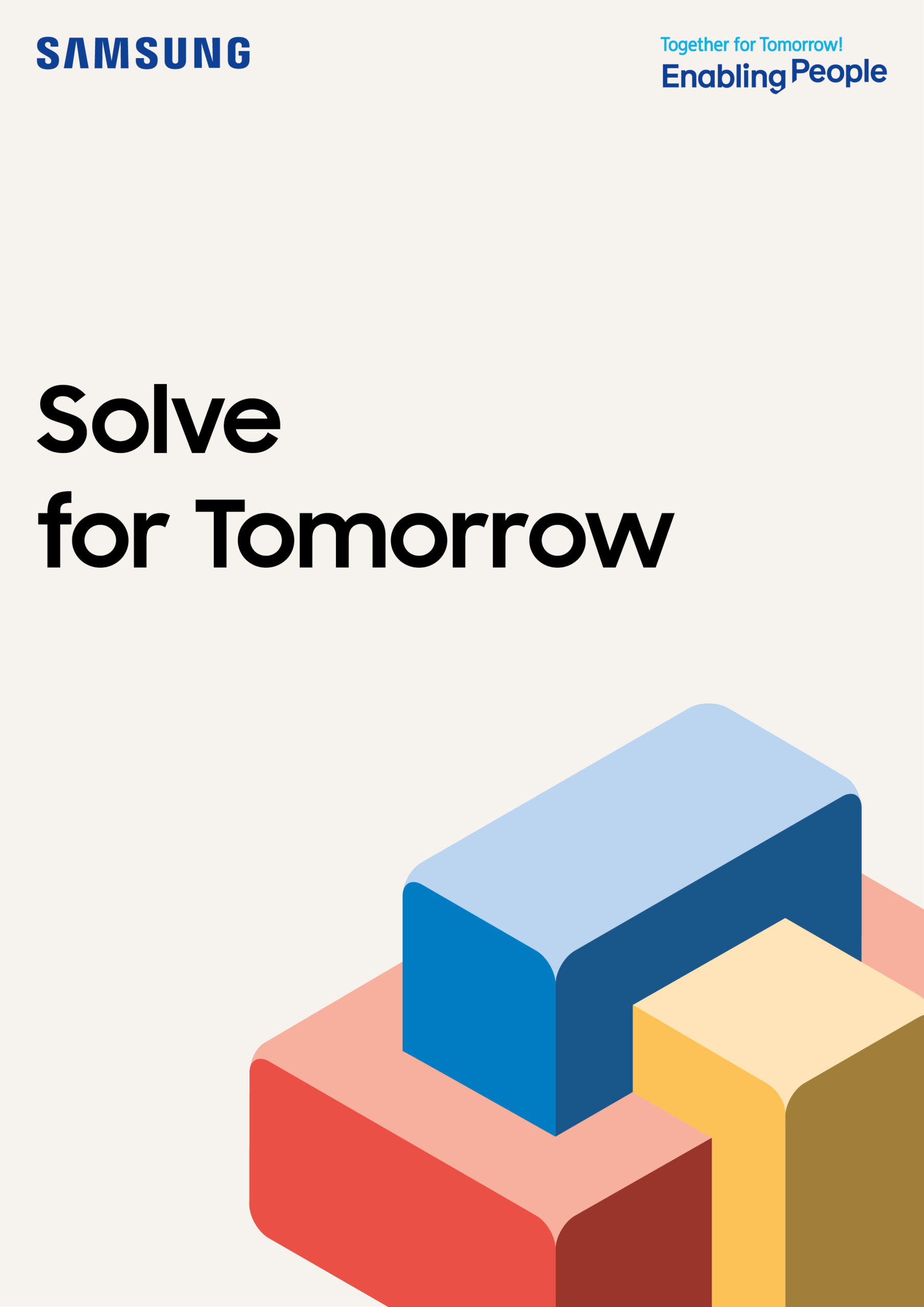 Today's youth is the world's most valuable asset for building a better future. They are the catalysts of innovation and progress, and they hold an inexplicable power that can make or break the future.
When young people are equipped with resources and opportunities that nurture their dreams, a ripple effect happens where they generate positivity that also inspires fellow young people. When shown love and kindness, they spread these acts even further and ignite positive contributions to their communities. They participate in ways they could, through volunteerism, outreach, or even by coming up with their own inventions and solutions.
Constant innovation and collaboration have always been part of the values that Samsung continues to uphold. Samsung believes in developing young minds to their full potential by giving them the opportunity to use and expand their abilities.
In order to engineer these differences in young people's lives, Samsung launched the Solve for Tomorrow campaign in 2010, an initiative that brought together top students to collaborate on finding innovative solutions to pressing societal challenges using their understanding of Science, Technology, Engineering, and Math (STEM) fields. This program began in the United States and has expanded to 50 countries since.
Over the last several years, Solve for Tomorrow has become one of Samsung's key educational initiatives, inspiring creativity among 1.8 million students worldwide. The program aims to do more than just impart technical knowledge, it also seeks to help the youth realize their full potential.  Now, for the first time, Solve for Tomorrow is looking for talented young minds in the Philippines to participate in the program.
"This is definitely a unique learning opportunity for our Filipino talents. Samsung has devoted itself to believe in the youth and equip them with experiences that will help them pioneer a better world," says Minsu Chu, President of Samsung Electronics Philippines Corp. (SEPCO). "Every young person deserves to unlock their full potential, regardless of circumstances. And that's why we are truly excited to finally bring Solve For Tomorrow here in the Philippines."
Samsung seeks student teams all over the Philippines to submit their proposals and solutions to issues surrounding public health management, transportation and road safety, hybrid learning program, or environmental sustainability.
"It's time for the global stage to see what Filipino minds are made of. And that we are ready to take part in solving today's problems for a better tomorrow," Chu ends.
To learn more about the Solve for Tomorrow campaign, visit https://www.samsung.com/ph/sustainability/corporate-citizenship/solve-for-tomorrow/
About Samsung Electronics Co., Ltd.
Samsung inspires the world and shapes the future with transformative ideas and technologies. The company is redefining the worlds of TVs, smartphones, wearable devices, tablets, digital appliances, network systems, and memory, system LSI and LED solutions. For the latest news, please visit the Samsung Newsroom at http://news.samsung.com.
For Feature/Promotion and reviews follow me
⬇️⬇️⬇️⬇️⬇️
Read my column "Don't Miss This" at The Rizal Weekly Post
IG Name: www.instagram.com/Homeschoolingiscool
FB Name: www.facebook.com/ armi.pineda
Fb page:https://www.facebook.com/Homeiskoolcom
YouTube Account: https://youtube.com/channel/UCAEszY-nm4XIPSphcppyilw
TikTok Account: https://vt.tiktok.com/ZGJkEHsLh/
Blog Site: www.Homeiskool.com
Twitter
Www.twitter.com/Armipazpineda
Other social media accounts
Www.facebook.com/Homeschoolingiscool
Www.facebook.com/Mimiworldnet
Www.facebook.com/Kawaiibeautyandlifestylecom
Www.facebook.com/Hometowngoodiesandservices
For collaboration you can email me at Armipazpineda@gmail.com