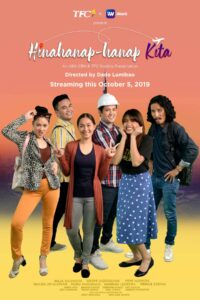 ABS-CBN and TFC Studios share stories from the diaspora, kick off original series, "Hinahanap-hanap Kita"
New narrative series to be shown on TFC globally
and iWant in the Philippines
DUBAI, UAE, September 26, 2019 — This October, millions of viewers of ABS-CBN's global content platform TFC and Philippine streaming service iWant will catch an original series that allows them a realistic, inside look into the lives of Filipinos living in Dubai, UAE.
Enter ABS-CBN through TFC Studios' maiden digital original series, "Hinahanap-hanap Kita" (Searching For You) which will be made available globally on TFC, TFC Online, TFC IPTV and in the Philippines on iWant –- simultaneously in real time – once the entire series is offered on October 5, Manila time.
The series stars Maja Salvador, Geoff Eigenmann, Pepe Herrera, Pamu Pamorada, Hannah Ledesma and Prince Stefan.
"Hinahanap-hanap Kita" is an eight-episode series that celebrates the highs and lows in the lives of the overseas Filipinos (OF), and how friends turn into a family as they pursue life in a foreign land.
"The group met some overseas Filipinos in Dubai and was really moved by their stories that we felt the need to share their story, which we did in this series, 'Hinahanap-hanap Kita," said ABS-CBN Global Content Head Ned Legaspi.
The Middle East is among the regions where there are a lot of overseas Filipinos from different walks of life—from those who are now successful in their respective careers and family life, the hopeful ones who are just starting a new life abroad, down to those who are longing to be back home—and their stories inspired every character in the series to the extent that some of them became part of the cast.
The series centers on Helen (Maja) whose husband suddenly stops communicating with her but continues to send support to his family. Helen then decides to go to Dubai to look for her husband, finding support and help from her friends Joy (Hannah), Lawrence (Geoff), Margot (Pamu), Homer (Pepe), and Reggie (Prince) who are working in Dubai. The group's journey in searching for Helen's missing husband also serves as a journey to self-discovery, acceptance, and freedom from the personal burdens that they carry in their hearts.
Sharpening the Focus on Filipino Images in the Diaspora
For 25 years, TFC has been the bridge of leading Filipino media and entertainment network ABS-CBN Corporation to reach out to millions of Filipinos across the globe. It has primarily done so by bringing to overseas Filipinos primarily TV, film and music content from the homeland, many of which were translated into live experiences through events.
But in the case of "Hinahanap-hanap Kita", ABS-CBN, through TFC Studios, pays tribute to every overseas Filipino by producing a series that tells their stories in an authentic and relatable way to their fellow overseas Filipinos around the world, to their families back home, and even to non-Filipinos who resonate with their story.
"Listening to the voice of the customer in this age means giving a voice to their stories," said ABS-CBN Global COO Olivia De Jesus. "As TFC's 25th anniversary invites all of us to discover what 'being Filipino' means at this time, it is appropriate to include not only hard news and community coverages of stories on the OF diaspora but actual narratives in various forms: series, documentaries, films. And we are happy to launch 'Hinahanap-hanap Kita' as a timely reflection on TFC's 25th anniversary message."
"Hinahanap-hanap Kita" is written by Benson Logronio, Ned Legaspi, Josel Garlitos, Kim Lorraine Cruz, and April Jalandra, under the production supervision of Roda dela Cerna and the direction of Dado Lumibao.
For TFC cable and linear channels, "Hinahanap-hanap Kita" will air every Saturday at 1:00 P.M. (Saudi time) for Middle East, Europe, and Africa territories with a replay at 10:40 P.M. (Saudi time); for North and Latin America territories it is at 1:15 P.M. (Pacific time) with a replay at 8:30 P.M. (Pacific time); and at 8:05 P.M. (Hong Kong/Singapore time) for Asia Pacific territories with a replay on Sundays at 8:15 A.M. (Hong Kong/Singapore time).
For more updates about TFC shows, visit mytfc.com or visit and like TFC's Facebook page applicable for your area. Connect with fellow global Kapamilyas and follow @KapamilyaTFC and KapamilyaGlobalPR on Twitter and Instagram.
Thank you for visiting my site. Please do follow my other social media accounts Www.facebook.com/HomeschoolWorld
Www.instagram.com/Homeschoolingiscool
Www.twitter.com/Armipazpineda
Armipazpineda@gmail.com
Youtube @mrs.pineda