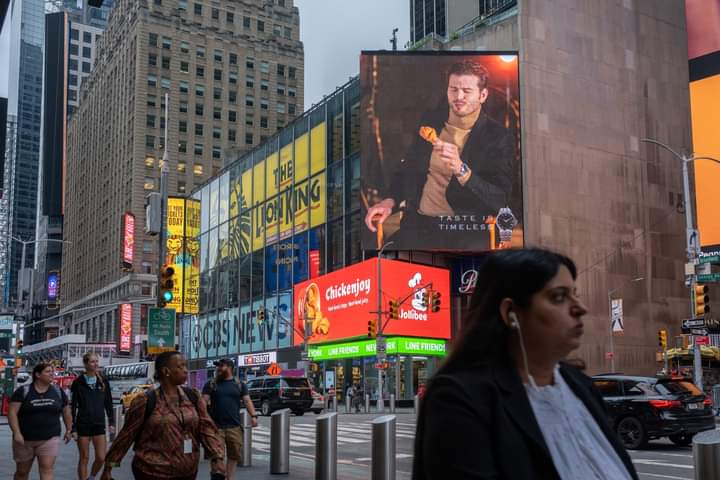 Larger than life Chickenjoy Buckets Bring Joy to the Billboards of New York Times Square as Jollibee continues to expand rapidly in North America Homegrown restaurant brand Jollibee joins other global brands in the Billboard Capital of the World, New York Times Square.
TIMES SQUARE, New York. 29 Sept 2022 – After a blockbuster opening at New York Times Square, homegrown restaurant chain Jollibee continues to make waves in the Big Apple with digital billboards now already up at the iconic Times Square in New York, the global epicenter of outdoor advertising.
Three billboards featuring its flagship product–the world-famous Jollibee Chickenjoy fried chicken—are now showing at the heart of Times Square's famous bowtie. It features two models who, after seeing a piece of the crispylicious and juicylicious Chickenjoy, couldn't resist a bite and grabbed a piece of the bestselling fried chicken from an adjacent
billboard.
In August, Jollibee Chickenjoy was named "the best chain fried chicken in America" by Eater.com. The distinction comes after Jollibee's Chickenjoy bested over 15 global
brands in four rounds of contests across different categories of chicken – from bone-in, to fillets, to nuggets. Earlier in July, Jollibee was also recognized as one of the Hottest
Brands in America for 2022 by Ad Age, driven by its power to draw huge queues to its restaurants.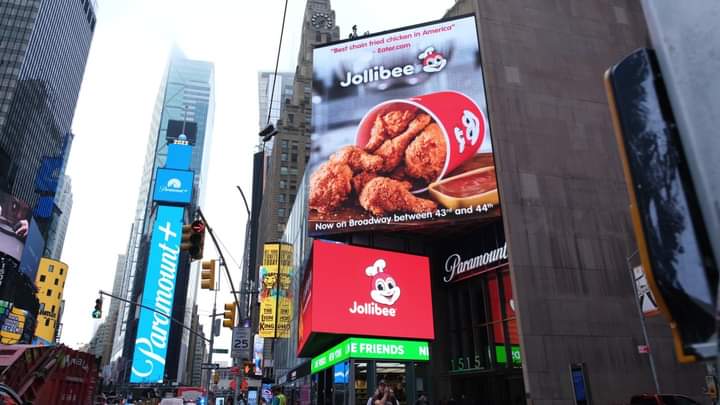 Today, Jollibee joins other global brands which have made a presence in the Billboard Capital of the World, and is one of the few Filipino brands and personalities who have
appeared on a Times Square billboard.
Taste is Timeless. The creative execution of the Times Square Billboard features a model on a billboard adjacent to Jollibee's Chickenjoy billboard who breaks character and grabs a piece of Chickenjoy fried chicken from its bucket after seeing it.
This comes at the heels of Jollibee's successful debut in Times Square, with over 2500 locals and tourists queueing up on opening day and consistently outperforming targets.
Alongside its bestselling extra crispy, extra tasty, and juicy Chickenjoy fried chicken, Jollibee Times Square also offers other crowd favorites including the hefty Chicken Sandwich, and Peach Mango Pie, which is made of a crispy and flaky shell filled with real
mango and peach.
Jollibee has likewise introduced new offerings into its menu, including a new host of allbeef burgers, salads, and sides that are exclusive to the Times Square location. A notable
standout in the exclusive menu is the Jollibee Double Deluxe Burger, which features two 100% beef patties and double the melted sharp American cheese.
The Jollibee Times Square store is the brand's fourth location in New York. This milestone opening is part of Jollibee Group's goal of expanding its presence in the U.S. and Canada,
in line with its vision to become one of the top five restaurant companies in the world. To learn more about Jollibee North America, visit www.jollibeefoods.com. To learn more
about Jollibee Group, its parent company, visit www.jollibeegroup.com
For Feature/Promotion and reviews follow me
⬇️⬇️⬇️⬇️⬇️
Read my column "Don't Miss This" at The Rizal Weekly Post
IG Name: www.instagram.com/Homeschoolingiscool
FB Name: www.facebook.com/ armi.pineda
Fb page:https://www.facebook.com/Homeiskoolcom
YouTube Account: https://youtube.com/channel/UCAEszY-nm4XIPSphcppyilw
TikTok Account: https://vt.tiktok.com/ZGJkEHsLh/
Blog Site: www.Homeiskool.com
Twitter
Www.twitter.com/Armipazpineda
Other social media accounts
Www.facebook.com/Homeschoolingiscool
Www.facebook.com/Mimiworldnet
Www.facebook.com/Kawaiibeautyandlifestylecom
Www.facebook.com/Hometowngoodiesandservices
For collaboration you can email me at Armipazpineda@gmail.com