DOST-ITDI will be launching the TekNegoShow Special Edition on July 8, 2021 at 9:00 in the morning with a LIVE opening ceremony, broadcast of its pre-recorded first episode, and virtual presser to be held via the Zoom Meeting platform.
With the Special Edition of ITDI's online business talk show, DOST-ITDI Director Dr. Annabelle V. Briones expresses her hopes of more businesses getting interested in adopting ITDI-developed technologies and availing themselves of its various testing services.
DOST-ITDI's Technological Services Division, through its Information and Documentation produces the online science-business talk show which broadcasted its maiden episode on October 22, 2020. Originally airing for one season or 13 episodes, the Special Edition, however will feature four technologies and two newly-opened research facilities geared toward augmenting business-coping mechanisms of industries to the current COVID-19 crisis.
To ensure content substance, TekNegoShow Special Edition will air narratives and insights of technology generators, business people, and the consuming public. This way ITDI can provide the public virtual experience of the technology and a way to interact with technology generators and companies that have adopted these or made use of the facilities.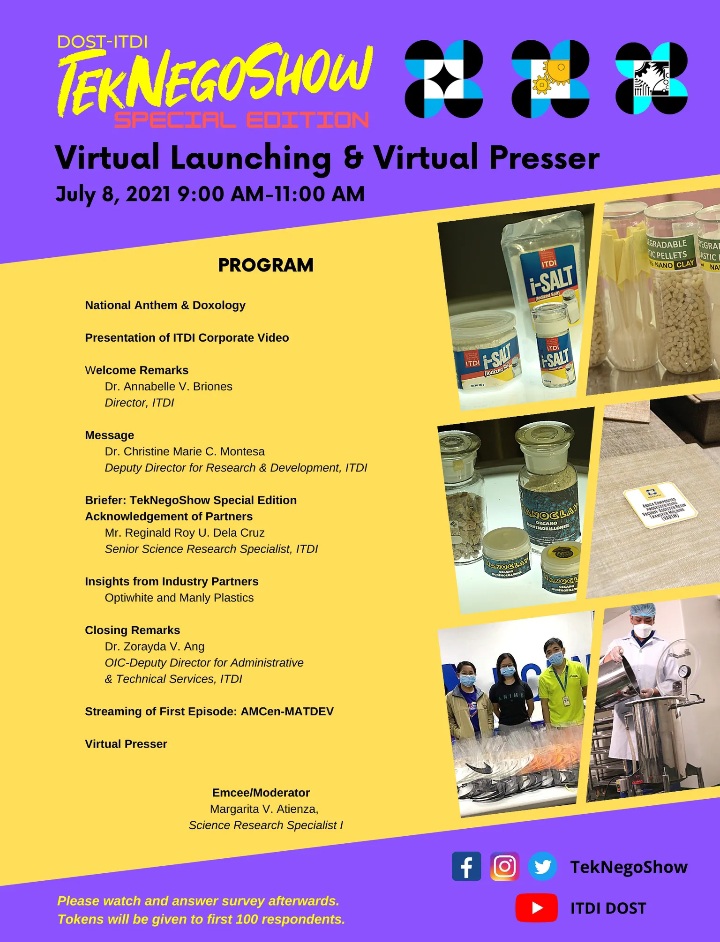 Invited to the opening ceremony are personalities with known interests in industrial technology and prospective technology adopters on:
1. I- Salt processing technology;
2. Abaca fiber-reinforced composite;
3. Nanoclay production;
4. Biodegradable plastic;
5. Multi-Industry Modular Innovation Center or MMIC; and
6. Development of Multiple Materials Platform for Additive Manufacturing Project or MATDEV-AMCen.
Guests from the Regional Offices and partner companies, DOST agencies, media friends, and associates are expected to attend the launching.
DOST-ITDI will broadcast six episodes beginning July 8 with a weekly Thursday afternoon (1:30) show date via Facebook TekNegoShow and Youtube ITDI DOST.
(AMGuevarra\\ ITDI S&T Media Service)
Read more about different stories of people, product reviews and events here on my blog and follow me on my social media accounts. Read my column "Don't Miss This" at The Rizal Weekly Post Www.facebook.com/HomeschoolWorld Www.instagram.com/HomeschoolingiscoolWww.twitter.com/Armipazpineda Www.facebook.com/Mimiworld.net Www.facebook.com/Homeiskool.com Www.facebook.com/Kawaiibeautyandlifestyle.com.
Www.facebook.com/Hometowngoodiesandservices
Email Add: Armipazpineda@gmail.com
Tiktok: Ms armipaz
YT Channel: Armi Paz Pineda https://www.youtube.com/channel/UCAEszY-nm4XIPSphcppyilw