Happiness Flavour for winners
MANILA, Philippines, 3 November 2022 – Glico Philippines, Inc. is celebrating Pocky day (11.11) this November 11, 2022 with a new TikTok challenge that combines the Filipino culture of gift-giving with a cute Pocky[1] trend popularized in Japan. The Pocky Heart-to-Heart TikTok Challenge is perfect for those looking to showcase their love to the ones they hold dearest.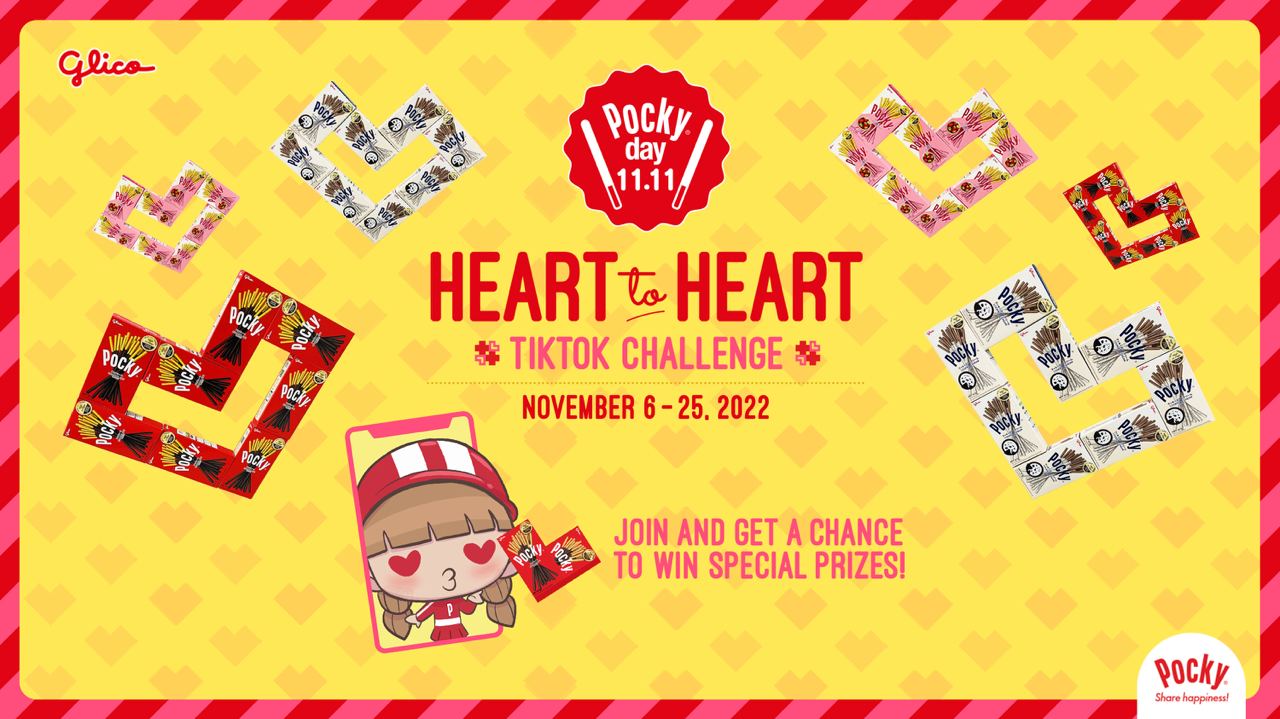 Every year since, Glico celebrates Pocky day globally on 11.11, because this popular Japanese snack that everyone loves looks like the number "1"
The tradition of giving gifts or pasalubong to loved ones is an integral part of the Filipino culture; this generosity and thoughtfulness are traits that perfectly resonate with Pocky's brand philosophy of sharing happiness with everyone. This is why Pocky has chosen to celebrate their biggest day of the year, 11.11, with a gift-giving challenge for everyone in the Philippines to show their utmost love to those closest to them in the upcoming festive season.
If you have someone you want to show your love and appreciation to, here's how you can join the Pocky Heart-to-Heart TikTok Challenge:
Create a heart with Pocky boxes — Using at least two Pocky boxes, put your creativity and skills to work, and shape them into a heart. You can even decorate the Pocky heart with ribbons, flowers or anything else that adds to the love you put into the gift.
Give your Pocky heart to a loved one — With your valid TikTok account, take a video of you giving your Pocky Heart to someone you want to show your appreciation for. Make sure to share your happiness with us by telling us why you're giving this person the Pocky Heart.
Share your love to the world! — Post the video on TikTok with the hashtag #PockyHearttoHeart!
Whether it's a partner, an old friend, a teacher or your grandparents, there is bound to be someone dear to show your love to. Take the Pocky Heart-to-Heart TikTok Challenge and showcase your love in a Heart-to-Heart "Tok" with your loved ones. If you post the best entry, you'll win a cash prize and a special limited-edition gift pack with "Pocky Happiness Flavour"!
You can complete the challenge in the comfort of your home, in a fancy venue of your choice, or at one of our Pocky day event booths coming soon to a space near you! Follow the Pocky Philippines Facebook and Glico Philippines Instagram to find out the locations of these events as they open up.
■ Communication
Official Facebook https://www.facebook.com/PockyPhilippines
Official Instagram https://www.instagram.com/glico_ph/
Glico Brand Store (Shopalyst)  https://shop-ph-glico.com/brandstore/glico
Glico Asia Pacific website https://www.glico.com/sg/
About Glico
On February 11, 2022, the Glico Group celebrated the 100th year of its founding. In 1922, Glico's nutritious Glico caramel in its distinctive red box first hit the shelves of a department store. Headquartered in Japan, Glico has since expanded into Asia Pacific, European, and North American markets with the aspiration to stay true to its founding spirit of enhancing people's health through food.
Led by its well-loved confectionary brands such as Pocky, Pretz, and Pejoy, Glico has now expanded its portfolio* to include ice cream products, baby formula, milk products, desserts, food ingredients, and raw materials for cosmetic and health products. Its health and wellness offerings such as the SUNAO range of zero sucrose, low carbohydrate food products and Almond Koka almond milk are gaining popularity outside of Japan after becoming a hit in its domestic market.
* Some products in the portfolio may be available in Japan only.
About Pocky
Since its launch in Japan in 1966, Pocky has maintained its core concept while gradually changing its packaging and formulation to meet the times and society. The new Pocky range was launched in the Philippines on June 8 in 2022 to suit the changing consumption scene and purchasing behavior in Southeast Asia. With growing health consciousness, more and more consumers are looking for healthier choices and more guilt-free products. In line with such willing, we added fiber into the pretzel of Pocky which offers more health benefits. We also added wholewheat into the pretzel which gives it a lighter and crispier texture. The rich and smooth chocolate gives the right balance of sweetness while enhancing the unique aroma of the chocolate flavors by adjusting the ratio of cream to biscuit.
About Pocky day
Pocky day was established in 2016 as a day to encourage people to start sharing happiness. November 11 was chosen because the Pocky biscuit stick resembles the number "1". It was first organized on November 11 in 1999, the eleventh year of the Japanese Heisei era: 11/11/11. It is an official day recognized by the Japan Anniversary Association[2].
We hope that Pocky day will not only become the day to think of and appreciate the important people in your life, but also a day to take action and make them happy.
■ Our Distributor

GYMBOREE MARKETING INTERNATIONAL, INC.
Office Address: 917 Banawe St., Barangay Manresa, Quezon City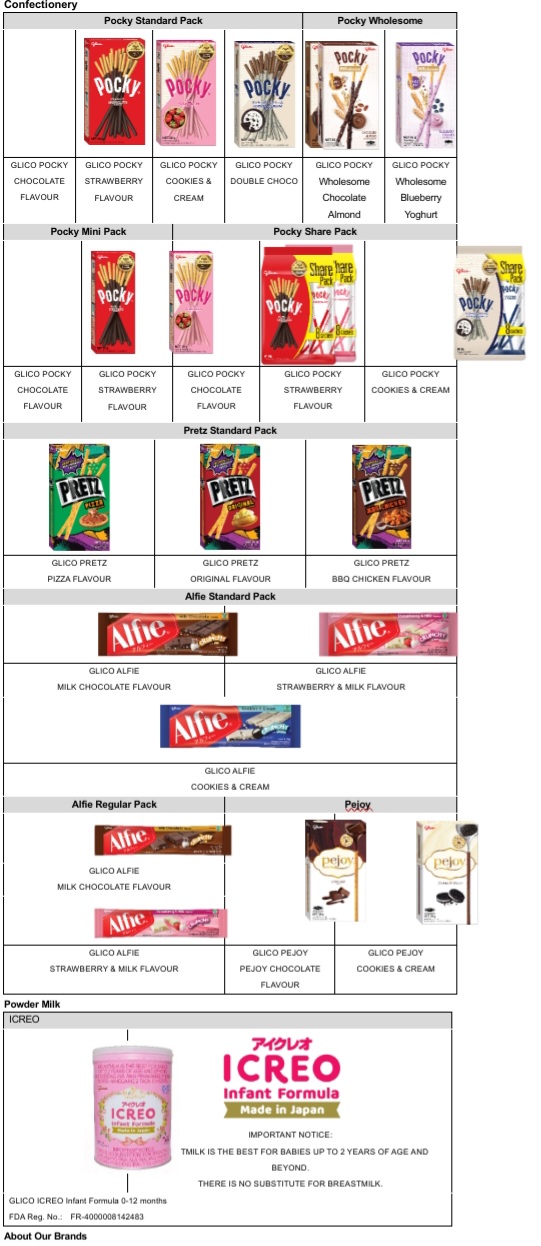 Glico's Product List in Philippines:
[1] "Pocky" is a trademark of Ezaki Glico Co., Ltd.
[2] https://cp.pocky.jp/pp1111/en/
For Feature/Promotion and reviews follow me
⬇️⬇️⬇️⬇️⬇️
Read my column "Don't Miss This" at The Rizal Weekly Post
IG Name: www.instagram.com/Homeschoolingiscool
FB Name: www.facebook.com/ armi.pineda
Fb page:https://www.facebook.com/Homeiskoolcom
YouTube Account: https://youtube.com/channel/UCAEszY-nm4XIPSphcppyilw
TikTok Account: https://vt.tiktok.com/ZGJkEHsLh/
Blog Site: www.Homeiskool.com
Twitter
Www.twitter.com/Armipazpineda
Other social media accounts
Www.facebook.com/Homeschoolingiscool
Www.facebook.com/Mimiworldnet
Www.facebook.com/Kawaiibeautyandlifestylecom
Www.facebook.com/Hometowngoodiesandservices
For collaboration you can email me at Armipazpineda@gmail.com