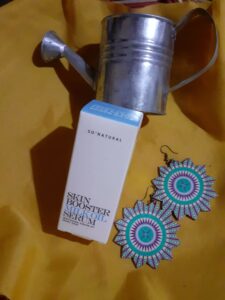 Review about So Natural Skin Booster Milk Oil Serum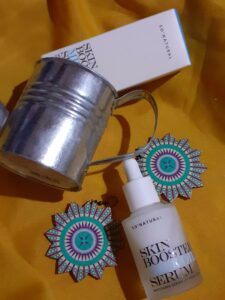 It's lightweight yet super intensive hydrating serum brightens skin and revitalizes the complexion for luminous, glowing skin.
At my age I am aware that intensive skin care is neede for my skin. Even at my early age I am into skin care. I never leave the house and sleep without cleaning my face. And maybe because of my close pores skin i never had acne problem.
As I mature new skin care products arrived and I got so confused what product will suit my skin. Since I see them having flawless skin but now it's glass skin. I was introduced to different products from US, Japan and other countries. But for me I choose the Asian products which I know is good for my skin. And then some companies produced skin care for Asian skin.
So now I am into korean skin care products. As of now I am excited to use Serum since it's a product that heal skin problems not only at the surface but at the root of the skin. It also improves the skin texture because of the content they have. It also prevent wrinkles and signs of anti-aging
When I started using Skin Booster.Milk Oil Serum i saw a lot of improvement on my skin. Because of it's milk content my skin became softer and gentle. At the same time since it's oil base it also moisturizes my skin and just in time for the Christmas Season where I experience dryness on my skin.
My skin became firmer and my wrinkles is not totally gone but lessen my aging problem and boost my skin. Just as the name is.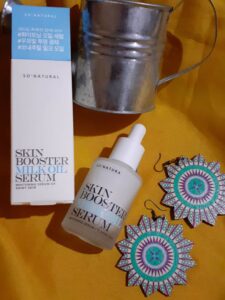 Will I recommend Skin Booster Milk Oil Serum, i definitely will and to try some of their other products. Thank You So Natural for your wondeeful product.
Most Filipinos admire the complexion of Koreans and that's the reason why there are a lot of Korean skin care and make up line opened their branches here. And Filipinos are beauty conscious and embraced the Korean products So Natural came up with products that is suited for Filipino custumers so that we may get to experience the best beauty product from Korea.
Products are available.at their official website Seoul Unni at www.seoulunni.com
Thank you for visiting my site. Please do follow my other social media accounts Www.facebook.com/HomeschoolWorld
Www.instagram.com/Homeschoolingiscool
Www.twitter.com/Armipazpineda
Armipazpineda@gmail.com
Youtube @mrs.pineda