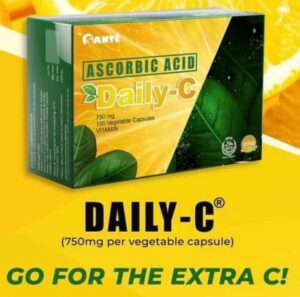 Take your Dose of The New C in Town with Sante's New Brand Ambassador Catriona Gray
Vitamins played a big role during the start of Pandemic, people have to strengthen our immune system by taking diff vitamins and eating healthy foods accompanied by healthy lifestyle.
I personally before the Pandemic has been taking a lot of Vitamins and Vit C is always included. I usually take sodium ascorbate because you can take it with an empty stomach. But before i used to take Ascorbic Acid. I have tried diff brands in the market and usually look for new brands. Good thing Sante has a new product called Daily C which has both sodium ascorbate an ascorbic acid. And enodorsed by a Beauty Queen. To learn more about the Daily C and it's benefits continue reading my blog.
New C in Town Santé Introduces new Brand Ambassador for Daily C.Prevention is better than cure, they say That's why amid the current global health crisis, everyone ie encouraged to take extra precautions to avoid getting sick.
As part of the 'now normal, "peopie are advised to stay at home, wash the hands frequently using soap and water or santizers, and wear protective equipment, facemaska, and face shields, smong others, as prescribed by the local authorities,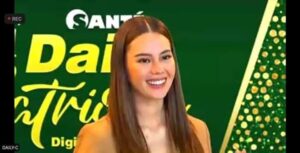 For Ms Universe 2018 Catriona Gray, however It alsa pays to take Vitamin C, a water-soluble vitamin that cannot be produced by our body While it can be found mostly in the food we eat, such as citrus fruits, strawbemes, and kiwi, taking an extra dose of this important nutrient can heip our body's immune functions, as weil as other health benefits,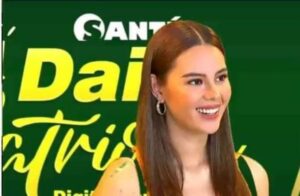 "Keeping a healthy lifestyle, which starts with eating a well-balanced diet to get the right amounts of important nutrients and vitamins, is important to help maintain a healthy immune system One of these important nutnentd is Vitamin C, which has been featured in supplements due to its promising properties,' Catriona said.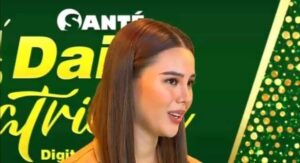 As a model, singer, and beauty pageant title hoider, known for her healthy lifestyle choices and as a fitness inspiration for all, Catriona Gray encourages everyone to get that extra dose of Vitamin C as she joins tho Santé family as the new brand ambassador of Daily C.
Santé's Daily C ls your go-to Vitamin C supplement for the whole family, as well es young professionals who work all-day or on night shifts. And since it's non-acidic, it is gentler on the stomach and safer for daily consumption.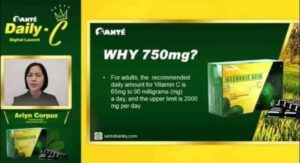 'This time, Sante Daily C now has an exciting new look and an additional variant. Aside from its Dally C 600mg which has been in the market for over 5 years, Santé also introduces Daily C in 760mg, bigger serving of the trusted Daily C ~ ascorbic acid as sodium ascorbate, now in vegetable capsules.
Dally C provides an extra dose of Vitamin C, which not only aids the immune system bul also prevents scurvy (Vitamin C deficiency); an extra level of protection by enhancing the absorption of iron and the formation of collagen in our bodies; as well as an extra aid in speeding the process of wound healing
"Now more than ever it is important for all of us to take good care of our health and overall welllbeing I'm glad that | am able to promote this mindset as the newest brand ambassador for Santé Day C," said Catnona,
Joey Marcelo could not agree more. He said that "amid these uncertain times, we all need fo take extra precautions We are glad that we have our country's pride, Ms. Universe 2018 Catriona Gray, as our new brand ambassador for Daily C as we encourage everyone to keep themeselves healthy and strong, especiaily amid the current global health crisis."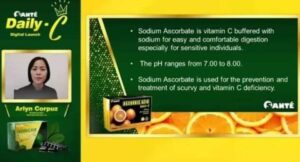 Samté Daily C fs just one of the many other organic health and wellness products offered by Santé. Known for ts flagship, Santé Barley™, the company has developed a comprehensive selection of everyday bariey-based products. They are made with organic barley grass, 98 certified by BioGro, New Zealand's leading organic certficaton agency.
To learn more about Sante, visit their website at santebarley.com.
Thank you for visiting my site. Please do follow my other social media accounts and read my column "Don't Miss This" at The Rizal Weekly Post Www.facebook.com/HomeschoolWorld Www.instagram.com/HomeschoolingiscoolWww.twitter.com/Armipazpineda Www.facebook.com/Mimiworld.net Www.facebook.com/Homeiskool.com Www.facebook.com/Kawaiibeautyandlifestyle.com Armipazpineda@gmail.com Livestream Channel @UPLive @Armi Livestream Channel @Facecast @PCTC_Ms.A
YT channel: https://www.youtube.com/channel/UCAEszY-nm4XIPSphcppyilw